New sales system at San Raffaele
Tomorrow morning you have to bring a urine sample for analysis, but you have forgotten the container.
You need two injections, but you've run out of syringes.
You are horrified to realise that you've run out of powdered milk for the baby...for these and other small but crucial needs, the San Raffaele pharmacy will be putting an automated sales system into operation in the next few days. In the neighbourhood It does not contain drugs, but medical devices or supplements that are most often requested during opening hours.
This brand new system works easily, thanks to the
Touch monitor and intuitive options. It only accepts ATMs, credit cards, Satispay. It does not accept cash, to avoid tampering.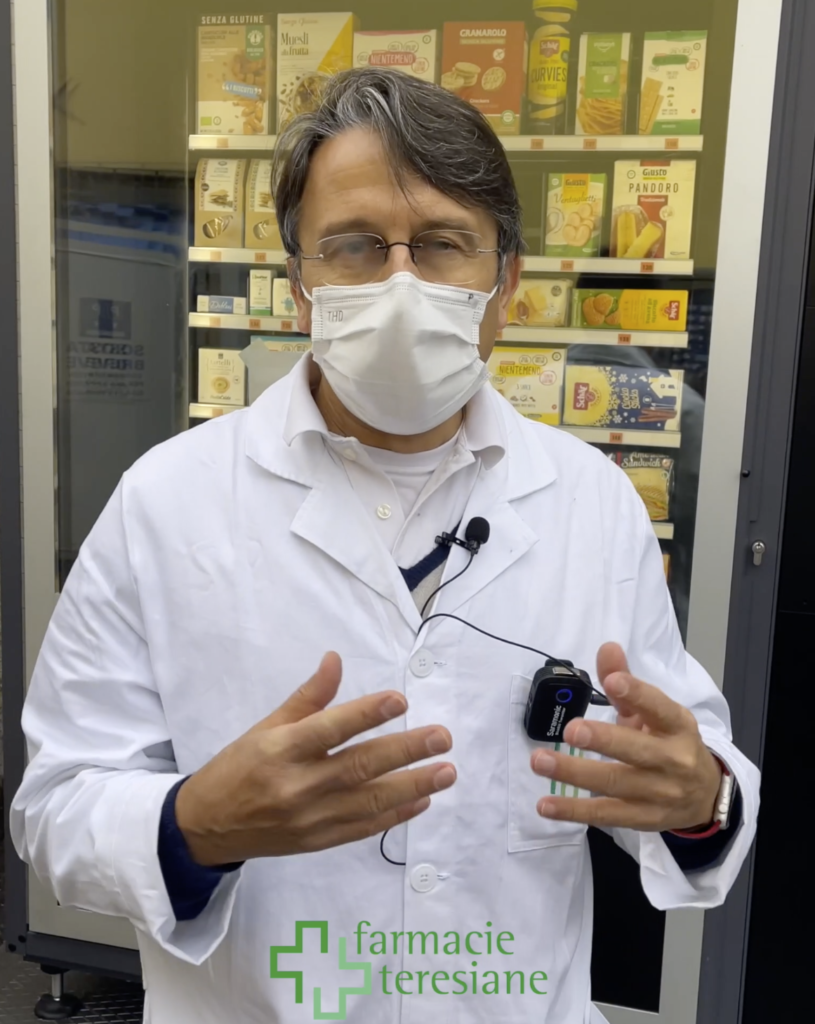 LIST OF PRODUCTS WITHIN THE DISTRIBUTOR
| | |
| --- | --- |
| Barcode | Description |
| 907181236 | MED'S HYDROGEN PEROXIDE |
| 908019553 | AFTIR GEL |
| 934314954 | AKUEL BLUES 12 PCS |
| 934314271 | AKUEL BLUES 6 PCS |
| 934315084 | AKUEL LONG PLEASURE 6PCS |
| 934315021 | AKUEL NULLA 12PCS |
| 934314220 | AKUEL SAFE 6PCS |
| 970701227 | AKUEL SKIN AQUA FEEL LUBRICANT |
| 972256438 | AKUEL SKIN ORIGINAL 6+2 PCS |
| 943371245 | AKUEL VIBES |
| 974837799 | AKUEL ZERO LARGE 6PCS |
| 976324436 | AL2000 TARALLI ALMONDS |
| 908030479 | 90° ETHYL ALCOHOL |
| 907919613 | ANIOSGEL DISINFECTANT 75 ml |
| 923664977 | BELLI FRESCHI TIGELLE 8 PCS |
| 980345159 | BIOCHEMICAL DIGEST AND ACIDITY |
| 903205906 | BIOVIT 3 THROAT |
| 980250753 | BRIO ONION CRACKERS |
| 980250740 | BRIO OREGANO CRACKERS |
| 980250765 | BRIO TRUFFLE CRACKERS |
| 976905152 | CAPUTO DRY YEAST |
| 926737697 | CEBION VIT C 100CPR. EFFERV. |
| 938181462 | CYTHROSODINE |
| 930549579 | MAM STUD |
| 913228084 | CLEARBLUE PREGNANCY TEST. 2PZ |
| 972295671 | CONNETTIVINA BIOPLUS CR |
| 975187941 | URINE CONTAINER |
| 901239576 | DENTOSAN MOUTHWASH. CHLOREX.012% |
| 931153670 | DERMA FRESH BODY MILK |
| 974099184 | DERMAPLAST HERPES |
| 908314394 | TEN HERBS |
| 935941587 | SHOWER SHAMPOO 2IN1 |
| 902649298 | EMATONIL PLUS |
| 981043336 | ENERVIT ADULT DEFENCES |
| 981043312 | ENERVIT SENIOR DEFENCES |
| 978242055 | ENTEROLACTIS PLUS 30CPS |
| 975894116 | FARABELLA POTATO GNOCCHI 500g |
| 938915600 | FLUIRESPIRA PHYSIOLOGICAL SOLUTION |
| 971179395 | GIUSTO PANDORO 400g |
| 912283468 | RIGHT FANS |
| 973210913 | GRANAROL CRACKERS 125g |
| 927091227 | GRINTUSS ADULTS |
| 927091203 | GRINTUSS CHILDREN |
| 907919551 | NITRILE GLOVES SMALL 1000 PCS |
| 978505168 | HAPPY FARM DOBLONS 48g |
| 924721552 | HYALURON COUGH AND THROAT |
| 934014275 | IALUMAR SOL. HYPERTONIC SPRAY |
| 907919967 | IBIS TRAMEZZINO PRAWNS VERD. |
| 907919955 | IBIS SANDWICH MOZZ. TOMATO |
| 980642666 | IBIS TRAMEZZINO PROSC.FUNGHI |
| 980642678 | IBIS SANDWICH TUNA. POM.OL. |
| 922405701 | KUKIDENT PLUS |
| 939278976 | LACTOFLORENE DEFENCE FOR CHILDREN |
| 931446571 | LACTOFLORENE PLUS CHILDREN |
| 939143703 | LACTOFLORENE PLUS FLAC |
| 976840532 | LICHTENA CREAM 50ml |
| 972147553 | LUISANNA MUFFIN 200g |
| 934480195 | MAALOX REFLURAPID SOLU. |
| 975981681 | MC VITIE'S CLASSIC OATMEAL BISCUITS |
| 932501392 | MELILAX MICROCLIMATES ADULTS |
| 932501416 | MELILAX MICROCLIMATES CHILDREN |
| | |
| --- | --- |
| 973076235 | MILL&JOY LACTASE 20 CPR |
| 975030836 | MULTICENTRUM ENERGY 25 CPR |
| 924932914 | MUSTELA CHANGE PASTE |
| 979683188 | NEOLATTE 1 |
| 979683190 | NEOLATTE 2 |
| 926047743 | NEOLATTE3 |
| 978244630 | NF AMERICAN SANDWICH |
| 975020013 | NF WELLNESS MIX BARS |
| 974382133 | NO LESS BITES CIOC.FR.BOS. |
| 981043399 | NO LESS THAN CRACKERS |
| 981043413 | NO LESS CAR.ZUCCA SNACKS |
| 974382184 | NO LESS THAN SNACKS CIOC.NOCC. |
| 981043502 | NO LESS SNACK COC.CH.AN. |
| 981043449 | NONE OTHER THAN SNACK MAN.ME.UV. |
| 939421881 | NUTRIBEN CAMOMILE |
| 942693870 | NUTRILEN REPAIR |
| 971526900 | ORO SAIWA FROLLINI PORZ. |
| 908806502 | FRESH ROYAL PAPA 100g |
| 972453450 | PDV SACHETS SPECK PROVOLA |
| 926583891 | PDV CAPPELLETTI PROSC. CRUDO |
| 980137499 | PDV LASAGNE WITH ARTICHOKES |
| 980137487 | PDV LASAGNE WITH RAGU |
| 981249752 | PDV PUMPKIN LASAGNE |
| 979370982 | PDV PANCIOTTI WITH CHEESE |
| 973721133 | PD PUMPKIN RAVIOLI |
| 974012128 | PILLO PREMIUM MAXI SIZE 3 52 PCS |
| 974012130 | PILLO PREMIUM MEDIUM SIZE 2 30 PCS |
| 974012142 | PILLO PREMIUM MINI SIZE 1 28 PCS |
| 974012181 | PILLO WIPES 72 PCS |
| 975873567 | PRIMALY MUESLY FRUIT |
| 977659251 | PROBIOS CANTUCCINI 200g |
| 980516708 | PUMYLENE VAPOR DIS.SPRAY |
| 980120291 | HOT SPOT TARTELLI' PISTACHIO CAKE |
| 938545264 | PURESSENTIEL SPRAY |
| 903622090 | REUFLOR DROPS CHILDREN |
| 972708794 | RINAZINE RESPIRABENE NAS.CER.NAS. |
| 977807662 | PORT BLUE SATURATION METER |
| 930856125 | SAUGELLA ABSORB. NIGHT |
| 901297440 | SAUGELLA ACTIVE WIPES |
| 908960800 | SAUGELLA DERMOLIQ.WIPES |
| 944282324 | SAUGELLA INTIMATE & BODY DET. |
| 931467726 | SAUGELLA PROTECTORLIP |
| 978919470 | SCHAER BIO CHOCO BISCO |
| 926859909 | SCHAER BISC'OR |
| 927970917 | SCHAER BISCUIT OATS |
| 920368610 | SCHAER CIOCKO STICKS |
| 978837490 | SCHAER CURVIES ORIGINAL |
| 926085123 | SCHAER PETIT BISC. CLASSIC |
| 972062160 | SCHAER RAVIOLI RICOTTA SPINACH |
| 972062145 | SCHAER TORTELLINI PROSC.CR. |
| 973501632 | SNAIL SYRUP |
| 931635712 | SEBAMED ACTION SHOWER 200ml |
| 906677950 | ULTRAFIN PIC SYRINGE 5 ml |
| 931985031 | SYRINGE 5 ml 10PZ |
| 909971121 | STERILINE ELASTIC BANDAGE |
| 909883833 | STERILIN MIXED PLASTERS |
| 935662597 | SUPRADYN REFILL 30 CPR EFF. |
| 980517306 | THD FACEMASK X 20PCS |
| 939311306 | THERMACARE BACK 4 PCS |
| 926390636 | THERMOVAL STANDARD |
| 980543363 | UNIGEN DISINFECTANT TISSUES |
| 978477507 | VIADOL PATCH |
| 927041297 | WELL. FETA CRACKERS OL.OLIVA |