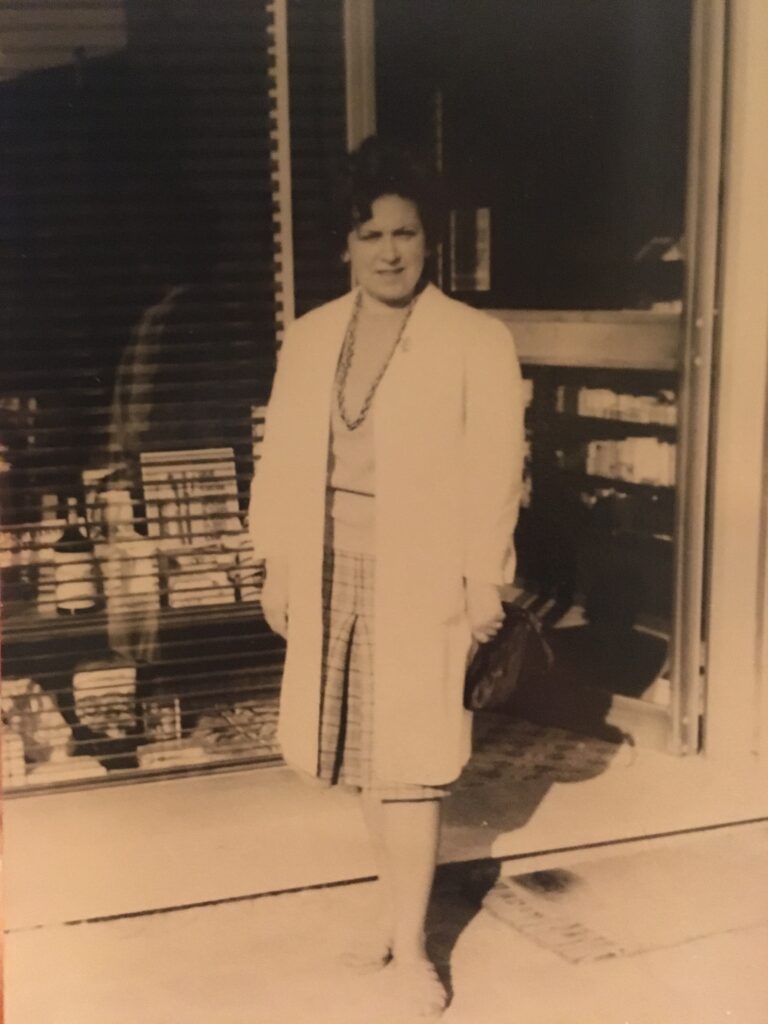 Farmacie Teresiane srl and Pancaldo Pharmacy are the result of family commitment and the involvement of motivated people.
Zorea Bellini, an Emilian pharmacist from Concordia, married Livio Predella, a Quistella native with a degree in agriculture and head of the commercial sector of the Mantua Agricultural Consortium, in 1949. Over the years they gave birth to three children, and in 1967 they settled in Soave di Porto Mantovano, where Mamma Zorea won ownership of the rural pharmacy. She has the pulse to run the business on her own and to hold down and graduate an electrical engineer (Lino, '51), an orthopedic surgeon (Fabio, '53) and a pharmaceutical chemist (Paolo, '63).The latter, having lived in Soave since kindergarten, matures his attachment to the area and the community.
He is co-founder and then president of the Young Pharmacists Association of Mantua, and he comes into contact with many colleagues through the Unione Farmacisti Informatizzati of Modena, a consortium that brings together hundreds of pharmacists in the central north and Sardinia, and which to this day represents an exemplary reality of mentality and technical management of information technology in pharmacy. It is fitting that the small pharmacy in Soave should be among the first to equip itself with an evolved computer system and through this substantially improve the quality of service.
Paolo marries Luisa Bonetta, beloved morose from high school benches, first a biologist and then a pharmacist.
Luisa joined Zorea and then became the owner of the Bellini pharmacy in Soave, while Paolo, thanks to the help and support of his and Luisa's parents (Camillo Bonetta and Linda Donini, radiologist and anesthesiologist physicians), became an associate and then in 1999 the owner of the San Raffaele pharmacy in Mantua, a former municipal pharmacy. At that time Cristina Crestanini, who from a cleaner will acquire roles of increasing responsibility; Marta Zanini, a mother of two girls eager to get back into the game professionally; and Orietta Mossini, a pharmacist with already an excellent background, an expert in homeopathy, phytotherapy and cosmetics, join the staff.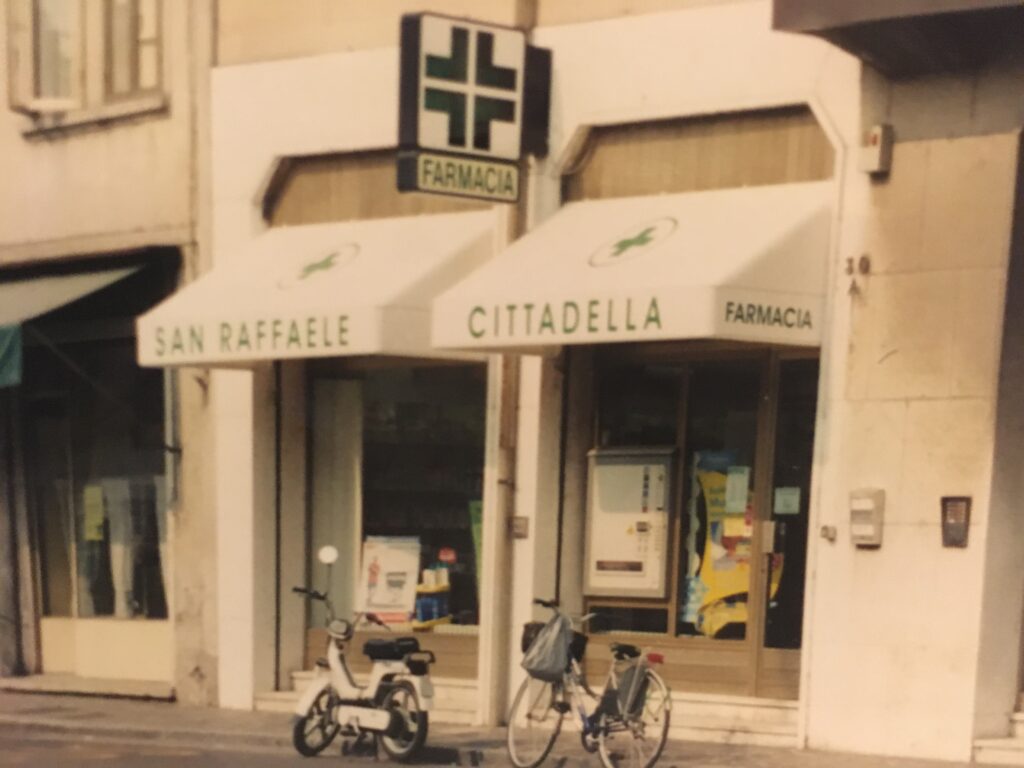 In Soave, Luisa finds in Francesca Rezzaghi, a CTF graduate, valuable support and then alter ego.
Family commitments (Camilla, Livio and Andrea were born) and increases in the workload made it possible to include Luisa Cittadini, an excellent Viadanese CTF who alternates between Soave and Cittadella and gradually covers all roles, and Leonardo Soregaroli, a veterinary friend who has since brilliantly graduated in pharmacy.
Soon the facility, organized in a small area, highlights the need for a more adequate space. The opportunity was offered by the Spaggiari brothers, who sold the house with warehouse located not far away, perfect to become the new San Raffaele pharmacy. The renovation of this assemblage of buildings built between the early 1900s and the 1980s is not trivial but is conducted with decisive flair by engineer Sergio Molinari, an elderly family friend and providential guardian in that delicate phase of growth and consolidation.
In September 2004, the new San Raffaele pharmacy opened, and a few months later the Gaudia medical center, managed and directed by Fabio Predella, opened on the second floor. The center gathers medical specialists who are Fabio's colleagues, people appreciated directly at work, with whom there is a well-established relationship of mutual esteem. Completing the staff is the Incontri family, physiotherapists and osteopaths.
In more recent years, Luisa won by competition Pharmacy Seat 70 of the City of Verona, and in September 2017 she opened the new Pancaldo Pharmacy, in the service center of Corte Pancaldo, between the Navigatori and Saval districts of the northern area of the city. This is a new and challenging experience, thanks to which Luisa is able to be appreciated for her empathetic and documented approach.
Luisa also finds crucial help in Verona: Giulia Cusumano, a young and eclectic CTF residing in the neighborhood, with excellent training and an expert in complementary medicines and cosmetics. The Pancaldo pharmacy stands out for its selection of high-standard offerings, particularly in phytotherapy and cosmetics. Leonardo Soregaroli is there weekly for advice in veterinary, homeotoxicology and Bach flower therapy. In recent years Giulia has given birth to Prisca and Livio "junior," darling children.
For Giulia's stop, Laura, a young pharmacist who started her career in Verona from Pula and Trieste, and Silvia, a freelance pharmacist, recently landed in Pancaldo Pharmacy. Both have quickly entered the sympathy of users.
In Mantua and Soave, in the meantime united in the company Farmacie Teresiane srl, Sara Giacomelli, already appreciated as a trainee, gaining increasing experience in laboratories and cosmetics; Paolo Gnasso, a pharmacist with a second degree in food science, an expert in oncological dietetics, very interested in territorial medicine, entered in succession. New entries are colleagues Martina Lanzoni and Alessia Ceresa, interested in phytotherapy and galenics, respectively. Both bring their freshness and dynamism to communication.
Cinzia Zanollo, a highly regarded freelance esthetician, operates in the beauty booth of the San Raffaele pharmacy.
In March 2023 Francesca Rezzaghi handed over the baton to Paolo Predella, current director of the Soave location. The Mantua location is now headed by Luisa Cittadini.
Farmacie Teresiane and Pancaldo Pharmacy look forward to the future with confidence, thanks to a grown, close-knit and synergistic team. Meanwhile, Livio sr. has graduated from CTF and is gaining experience.